Free shipping on orders over 60 €!
00Hours
00Minutes
00Seconds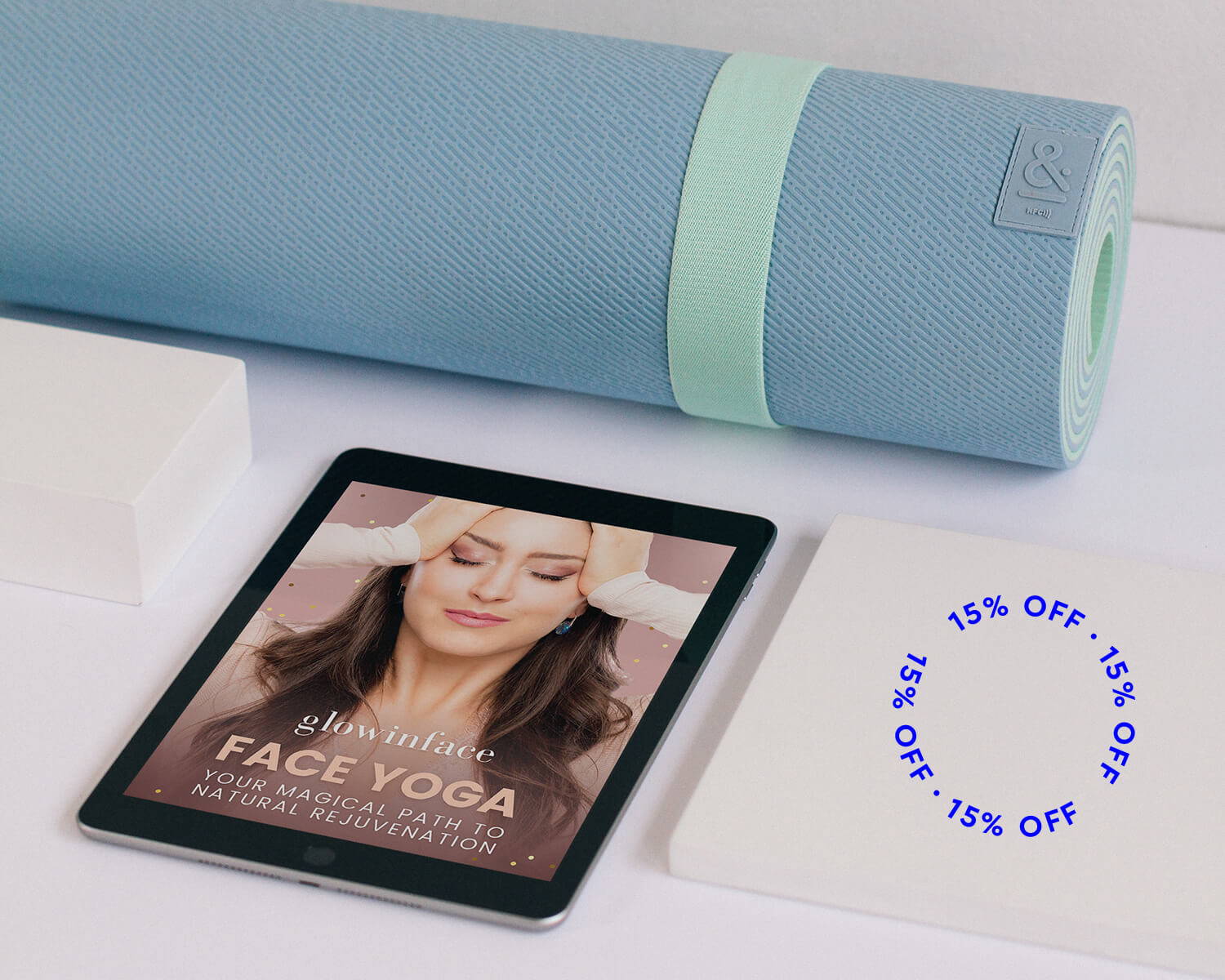 Flush the toxins out of your body (and look your best) with yoga for body & face.
Get the ultimate natural facelift, reduce wrinkles, get rid of the double chin, eliminate dark circles, and make your skin glow. The Glowinface eBook is a perfect introduction to natural rejuvenating techniques, Face Yoga, and a healthy lifestyle. When you buy the mat, you get a code for 15% discount on the Glowinface eBook.
Paired with our Mat & App combo, this set provides you with everything you need on your quest to achieve natural beauty, vitality, and health.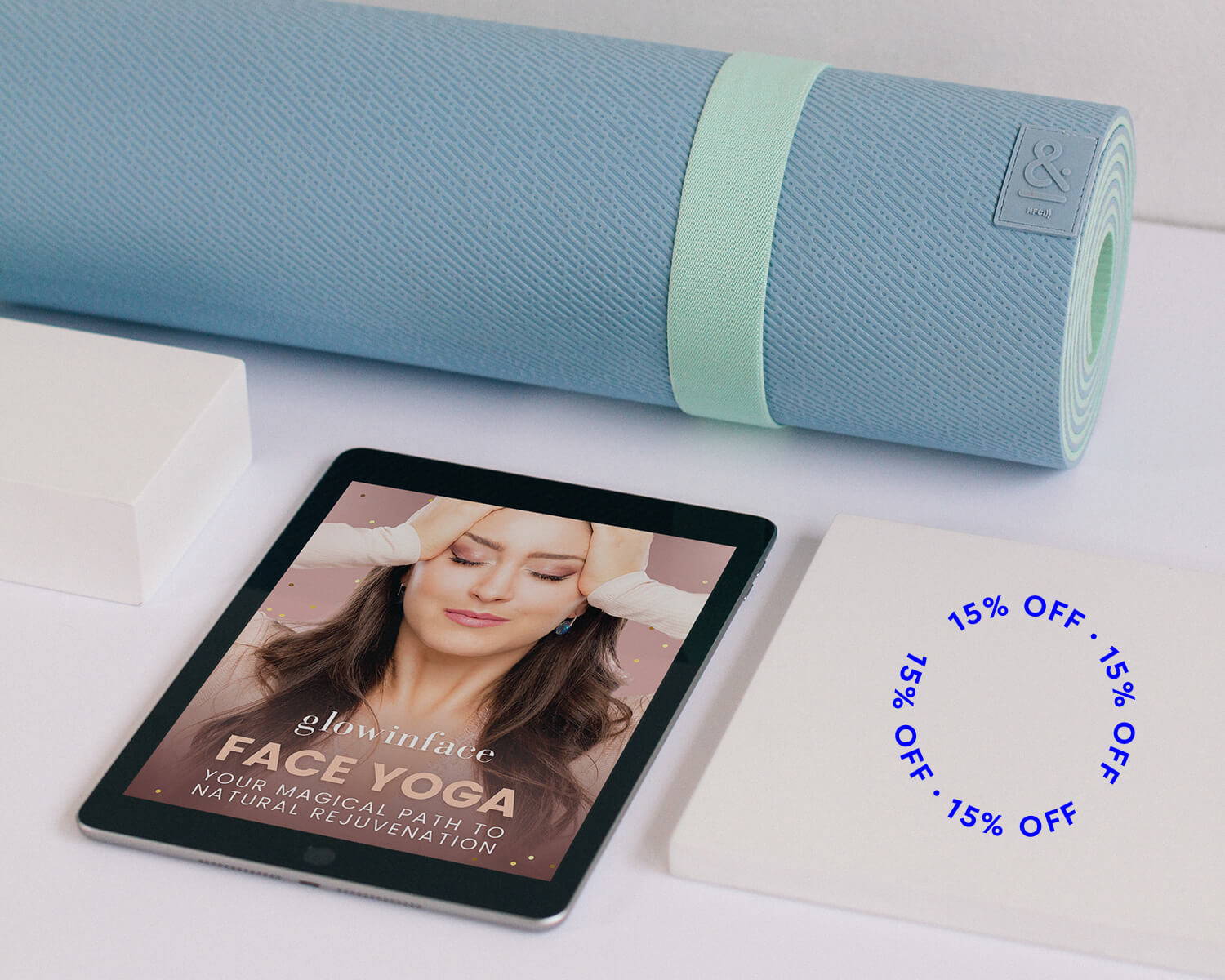 ABOUT THE BEAUTY & LONGEVITY SET
MELON & LIME MAT'N'APP COMBO
Melon & Lime mats are light, comfortable, and extra-long entry-level mats. They provide great cushioning on hard surfaces and a solid grip even for sweaty hands. Made of TPE, they are not only recyclable but also prevent sweat absorption and can be easily wiped clean. M&L mats come with a free strap for carrying and storing, and have an integrated smart tag that unlocks the Me Time app with 18 hours of original guided yoga, pranayama & meditation videos. The app is FREE but it can only be accessed through the smart tag on the mat.
GLOWINFACE Face Yoga EBook
With the purchase of the mat, you receive a code for 15% discount on Glowinface e-book about face yoga. Get the ultimate natural facelift, reduce wrinkles, get rid of the double chin, eliminate dark circles and make your skin glow in as little as five weeks. The Glowinface eBook is a great introduction to natural rejuvenating techniques, Face Yoga and healthy lifestyle. In it, you will find:
- The secrets to youthful skin
- An introduction to Face Yoga
- 5 rejuvenating facial exercises, 3 massage techniques and 4 acupressure points
- Beauty tools; Gua Sha, Jade Rolling, Cupping
- Face Mapping and Chinese Body Clock principles
- Easy to follow morning/evening routines
- Skincare: a list of toxic ingredients to avoid
- DIY skincare
- The right foods for beautiful looking skin
HOW TO PROPERLY CARE FOR YOUR MAT
Melon & Lime mat has a closed-cell construction which means it doesn't absorb sweat and is easy to wipe clean. It is soft, which is why it can get scratched quite easily, so make sure to keep it safely away from your cat. :)
CLEANING
Spray with a specialized cleaner and wipe down mat with a damp cloth; leave to dry in shade before rolling; do not wash in the washing machine.
ATTENTION
Do not expose your mat to direct sun or heat.
Each Melon & Lime mat comes with an integrated smart tag (NFC) that works as a key to unlock the app full of inspiring yoga videos. When you purchase our mat, you also get access to specialized content, leaving you with all the necessary tools to kick-start your healthy yoga habit.
The content in the app is originally produced by Melon & Lime. All videos are currently available in English language only. Me Time app contains flow yoga videos, restorative yoga poses, guided meditation and an introduction to the world of healing breathing techniques - pranayama. The app will constantly upgrade with new content and features.
By buying your Melon & Lime yoga mat today, you not only get the prettiest eco-friendly yoga mat with an awesome grip delivered immediately, but also a free subscription to the Me Time app.
WHAT'S INSIDE
17 Flow Yoga routines (Metabolism Boost, Energizing Routine, Feel Good, Inspiration…)
4 Restorative Yoga routines (Let Go, Ease Your Wandering Minds, Support Your Breath, Belly Savasana)
10 Pranayamas (Nadi Shodhana, Bhramari, Kapalabathi, Detox...)
10 Guided Meditations (Grounding & Rooting, Heart Space, Patience & Trust, Yoga Nidra...)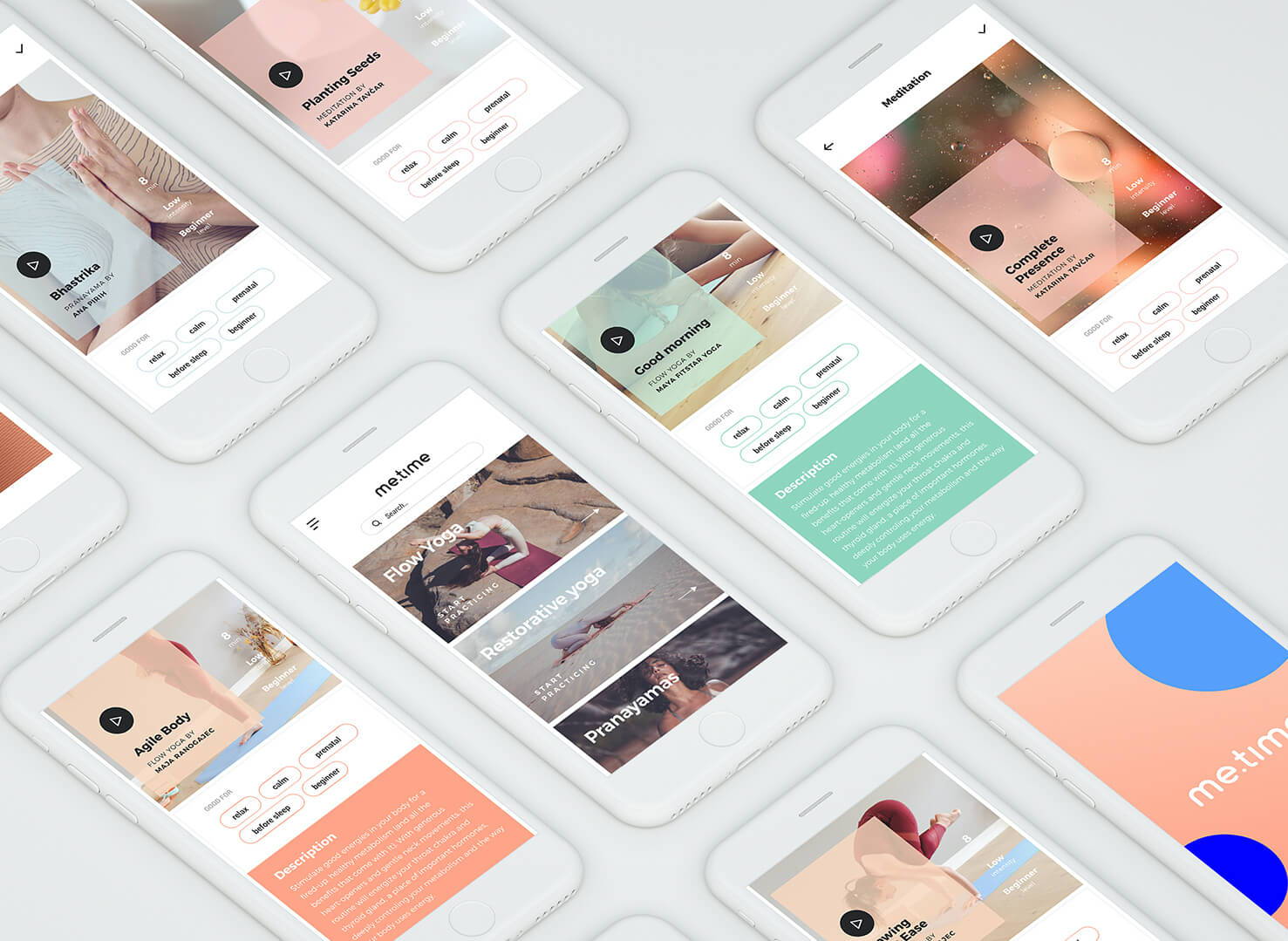 1. Download Me Time with Melon & Lime app on Google Play or AppStore.
2. On Android phone make sure that your NFC connection is turned ON.
3. Open the app.
4. Wait for the "Scan NFC" pop-up to appear.*
5. Press your phone to the NFC tag on your mat.
6. Pick your favorite exercise.
7. Feel great!
To download instructions, click here.
EXAMPLE OF A VIDEO FROM THE APP
All orders placed on melonandlime.com will be shipped from our warehouse in Slovenia. Transit times are between 2 and 10 days.
We often offer special free shipping deals or shipping discounts. Below is the list of our regular shipping fares.
Free Shipping on order above €55
Applies to orders shipping inside Europe.
Domestic Shipping €3.00
Applies to all orders shipping to Slovenia or Croatia.
Europe Shipping €4.50
We are offering 40% off on DHL Economy delivery to all countries in European Union. No coupon code needed.
DHL Express Shipping €9
We are offering 50% off on DHL Express delivery to USA, Canada, Switzerland, Norway and Balkan countries that are not a part of the EU. No coupon code needed.
DHL International Shipping €15
We are offering 40% off on DHL Express delivery to all countries that were not specified above. No coupon code needed.
For larger orders please contact us: info@melonandlime.com
Please note that due to an automatic ordering system, order amendments or cancellations are no longer possible once your order has been placed online. As soon as your order is shipped out, you will receive a tracking email that will enable you to trace your parcel.
Shipping charges are based on deliveries to mainlands only. Please contact info@melonandlime.com to place an order to the following countries:
The Canary Islands
The Balearic Islands
Norway
Switzerland
Moldova
Northern Ireland
Certain orders are not eligible for free shipping. Exclusions include shipping to:
The Canary Islands
The Balearic Islands
Norway
Switzerland
Moldova
Northern Ireland
Unfortunately, we cannot ship to Russia, Iran and Syria at this time.
Warehouse processes web orders from Monday morning, until Friday afternoon. Orders are not shipped on Saturdays or Sundays. You can track your shipment via the DHL website or for orders from Slovenia and Croatia on Pošta Slovenije's website by entering your order's tracking number.
Please be mindful of local Holidays as Melon & Lime is based in Slovenia. Our shipping carriers DHL and Pošta Slovenije are also closed on select days, and the volume of orders received will increase and may extend time in transit. For a complete list of all Slovenian Holidays, please click here: Holiday calendar Slovenia.
If you have any questions, please email, or call us at +38641994254. Melon & Lime is open Monday through Friday, 9:00am – 5:00pm CET.